We were in no particular hurry to leave Baton Rouge as we were essentially the only ones in the RV park and New Orleans was a mere 1.5 hours away. After getting homework and laundry done that morning, we packed up and headed to NOLA, arriving around 3pm. The Parc D'orleans RV park was an absolute dump. It was in a "not so great" part of town, the bathrooms were filthy and the location backed up to the largest railway yard I've ever seen. There were 8 tracks about 200 feet behind us with trains and whistles coming and going all hours of the night. We decided to stay anyway since the location was only 5 miles from the French Quarter district and we didn't plan on spending too much time at the park anyway.
After work and school we hopped in the Jeep and headed into the French Quarter where we spent most of our 5 days in NOLA. Our first stop, as always, was Cafe Du Monde for beignets. The place was busy as always but we finally found a table and ordered. The girls fell in love with beignets! We couldn't eat them often enough for them and eventually Hali counldn't stand the sight of them. Not Kira and Lexi. Kira stated a number of times throughout the week that she wanted to move to New Orleans so she could eat beignets all the time.
I had intentionally ordered only 1-2 beignets per person so that they girls didn't fill up for dinner and they would want to come back for more (not a hard thing to do). We walked through the Farmer's Market on our way to Frenchmen's St. stopping at our favorite little toy store on the way. We promised the girls a toy while in NOLA and if we had been smart we would have purchased one for them at the start. That's all they talked about was getting a toy for 5 days!! We made it to Frenchmen's St (the Jazz district) and looked for somewhere we could have dinner and listen to a little jazz. Not many places allow kids (NOLA = Bars) but we finally found The Three Muses where there was a jazz piano player. We had just purchased a Louis Armstrong book in the little toy store for Hali and everyone thought she was awesome for reading it at dinner. We shared "small plates" and drank "Mexican" Coke with real sugar. The girls thought that was awesome.
After dinner we walked 30 minutes or so back to the Jeep, past Cafe Du Monde, down Bourbon St. and up Dauphine. The next morning I looked at the map and realized that we'd parked about 5 minutes (3 blocks) from the Three Muses and walked all that way around in a huge circle for nothing!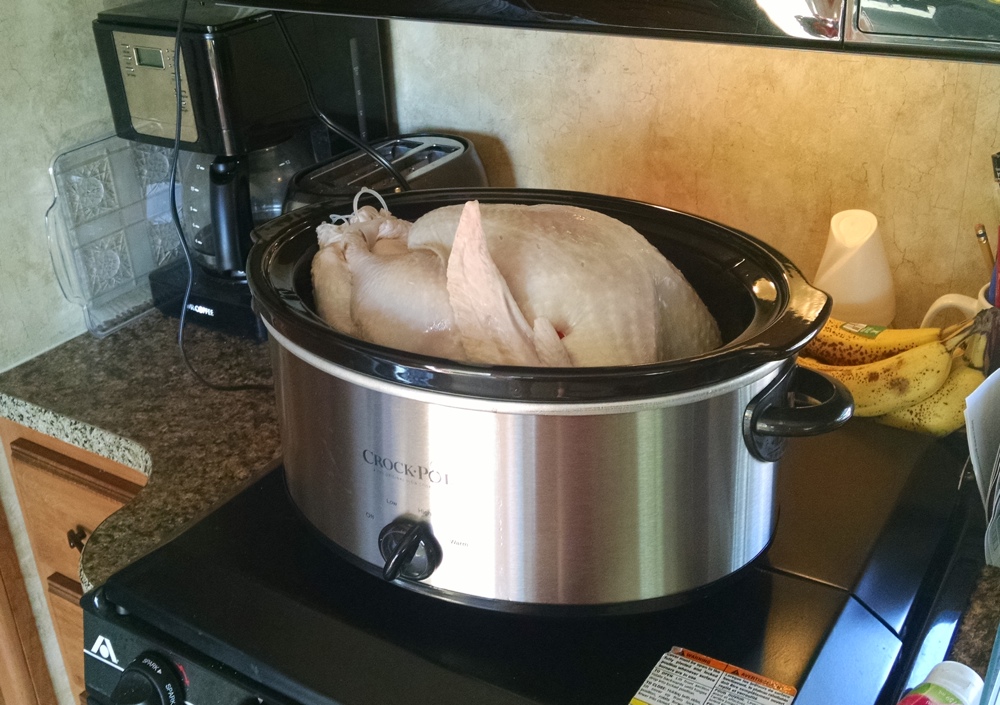 Thursday was of course Thanksgiving. We stuck around the RV for the day and Cathy cooked delicious meals of turkey, ham, stuffing, mashed potatoes and sweet potatoes. Everyone was stuffed and miserable but of course we kept eating. Cathy was a little depressed and jealous when she saw on Facebook that the family was at home playing cards without her. We watched TV and played on computers for most of the day but I think everyone was ready to get out of the house.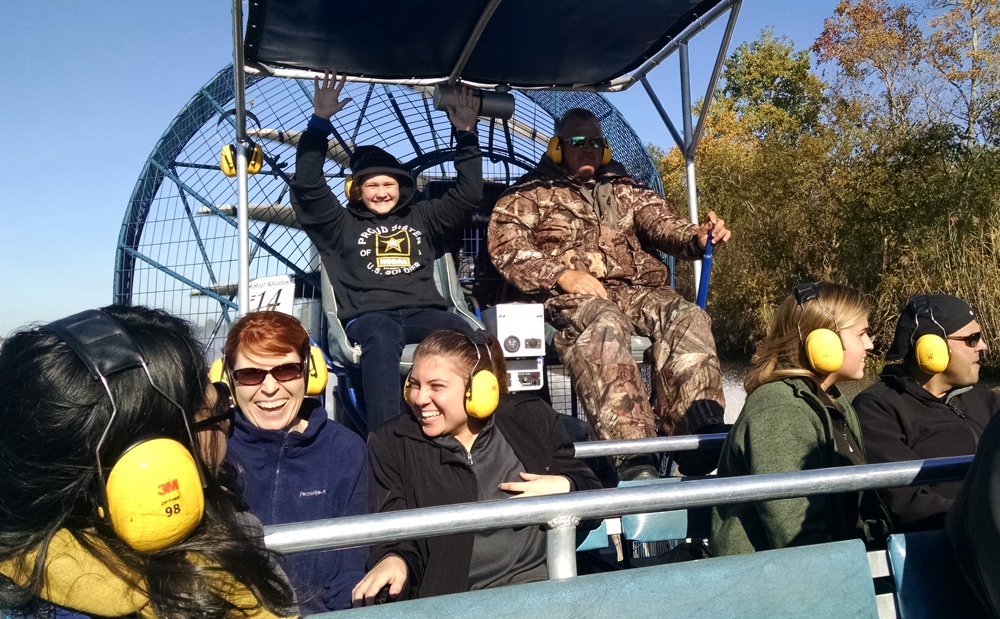 Friday was "Swampboat Day"! We'd made reservations the previous night with Airboat Adventures to ride the airboats about 30 minutes south of NOLA in the swamp. This was probably the non-food highlight of our trip. There were about 20 or so of us in the boat and the driver asked Hali if she wanted to sit up top with him. So, as Hali always does, she jumped at the chance and climbed into the seat next to him. We zipped around the water for 15 minutes or so when he spotted a small alligator and pulled over.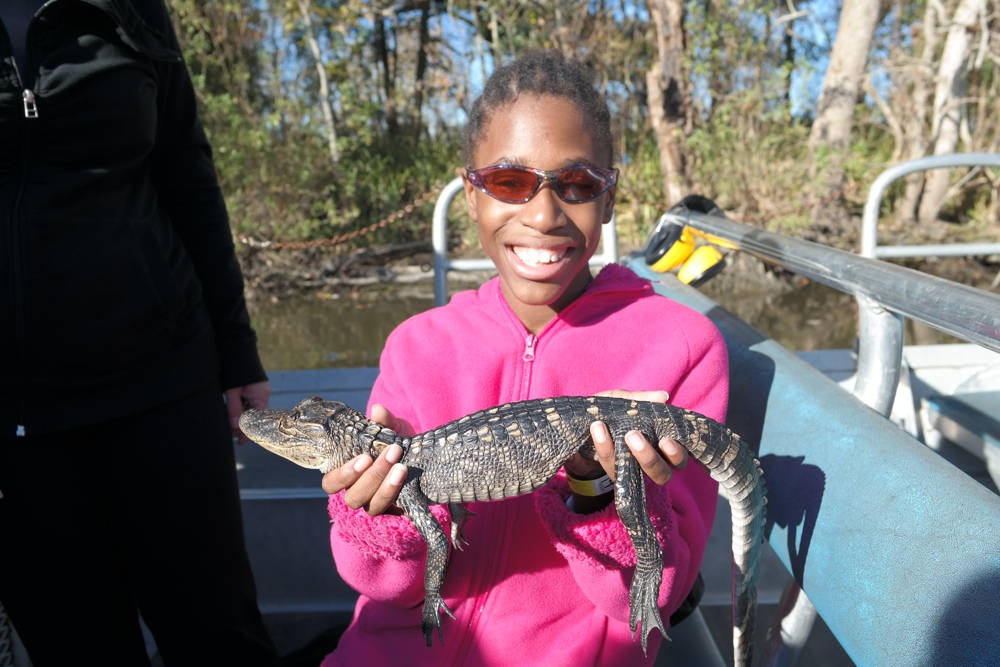 Apparently gators hibernate this time of year but this one was still up and about. He tried to grab him with his hands but unfortunately missed. As everyone turned around to look back in the water he pulled out at 20" gator from under the seat and started passing it around. I made each one of the girls hold the gator while we took pictures and eventually they were pretty comfortable with it. It was pretty darn cute. Check out the videos.
Everyone also had a chance to hold a tiny baby gator as well. Super fun and we got tons of great photos so check out the slideshow below. All three girls got to sit with the driver in the cold wind (it was in the low 60's) and never complained. He was super nice and a lot of fun. I would highly recommend the trip to anyone.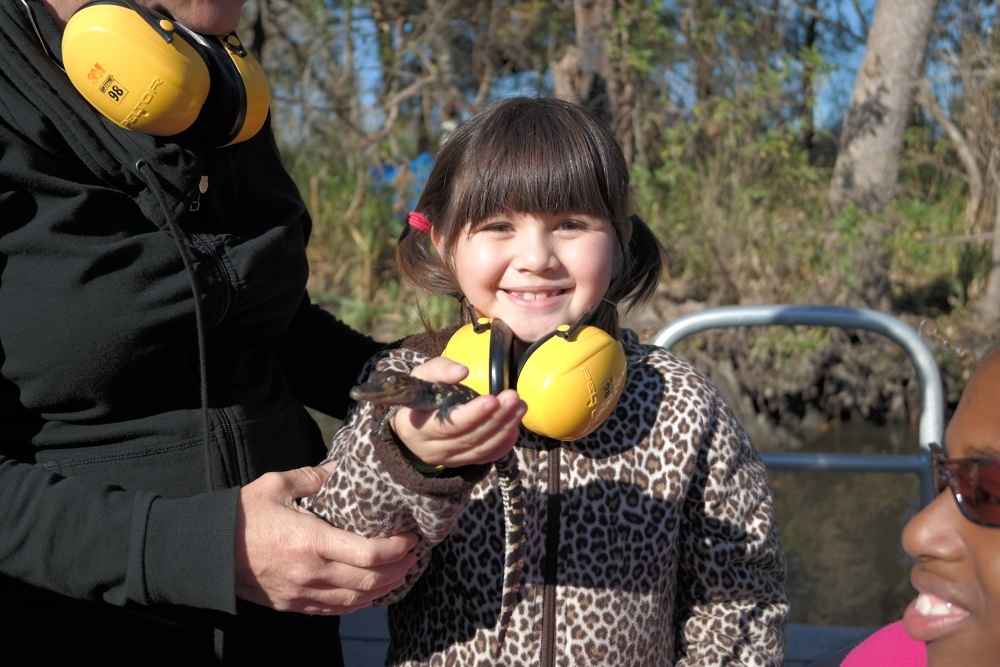 After playing with the gators we headed back into NOLA for dinner. We were a little early for dinner and opted instead for more beignets. Cafe Du Monde was packed as usual so we headed down the street to Cafe Beignet instead. Not as good but the girls still ate all of them as fast as they could. Afterwards everyone was too stuffed for dinner so after an hour or so we decided to head back home instead of waiting for dinner. The real reason was that Cathy was cold.
Saturday was culture day. We had plans to visit the African Museum in the morning and then a historical cemetery tour at 1pm. I called for direction to the museum mid-morning and found out that they were closed. Permanently. So to kill some time we headed into NOLA and went to one of our favorite BBQ places, Voodoo BBQ on Charles St. Lexi LOVES ribs so she was in heaven. The food was great!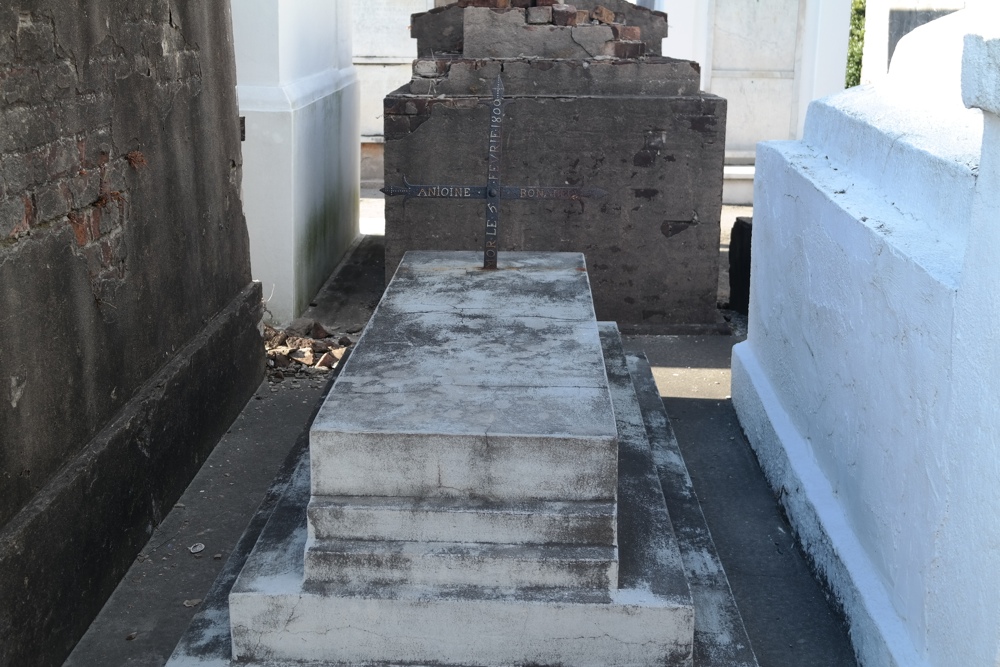 We walked around the French Quarter for awhile, killing time before our 2 hour cemetery walk. We spent a little time haggling with the tour company over the lost credit card transaction before settling into some Bloody Marys before we began the tour. The weather was gorgeous (72 and sunny) and the walk was fun and interesting. We looked at all of the cool graves, monuments and tombs in St. Louis Cemetery I and learned how they recycle the space for new family members. Yuck!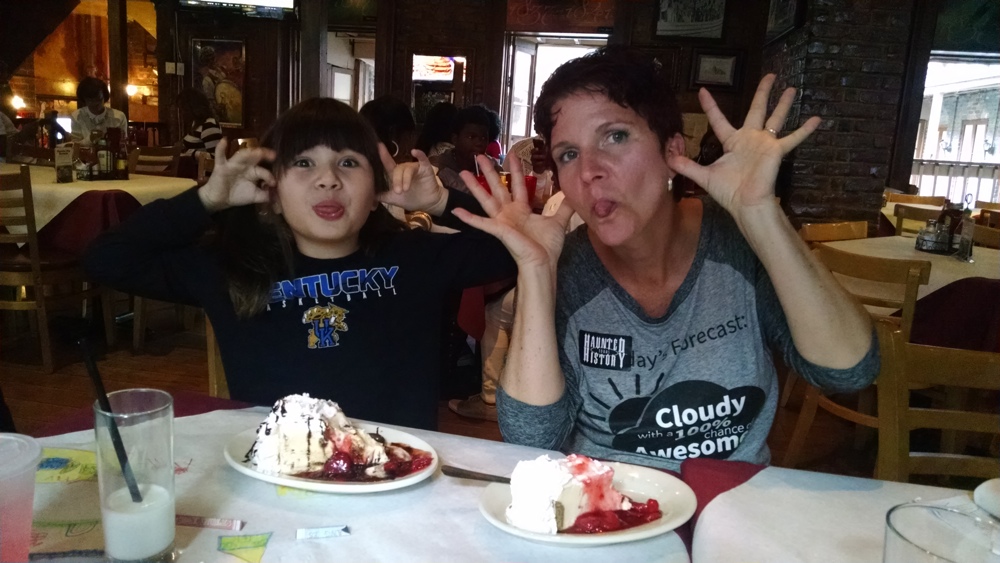 We finished up around "snack 30" (either 10:30am or 3:30pm depending on the time of day) and headed to one of our favorite restaurants, Oceania, for snacks. Kira got fried fish, the other girls ordered gigantic pieces of cheesecake while I had a beer. In the end I was the only smart one as no one else was hungry by dinner time. Since it was still early we decided to head back home (everyone but me was miserable) with aspiration of coming back for jazz at the Preservation Hall at 8pm. We never made it back into the city but we had good intensions.
Sunday was our last day and we saved it for a special occasion. The National WWII Museum is located in NOLA and since we'd be seeing Grandpa soon we decided to give the girls a little taste of his life while growing up and his time WWII. The girls spent most of the morning on their computers playing Smallworld while Cathy watched church. Around lunchtime we headed back to NOLA and ate lunch at Muriel's Jackson Square. A little pricy and fancy but they had a live jazz trio for brunch so Cathy was happy. The restaurant is supposedly haunted so we talked about the legend of the ghost that lives in the restaurant and how ghosts are "mostly nice".
With full bellies we stumbled across Jackson Square to find a carriage ride around the city. Lexi picked the horse with the pick glitter painted hooves. Naturally! It was a fun 30 minute ride through the city and once again Lexi fell asleep. She's batting 1000 for sleeping on tours now. Afterward we were off to the museum.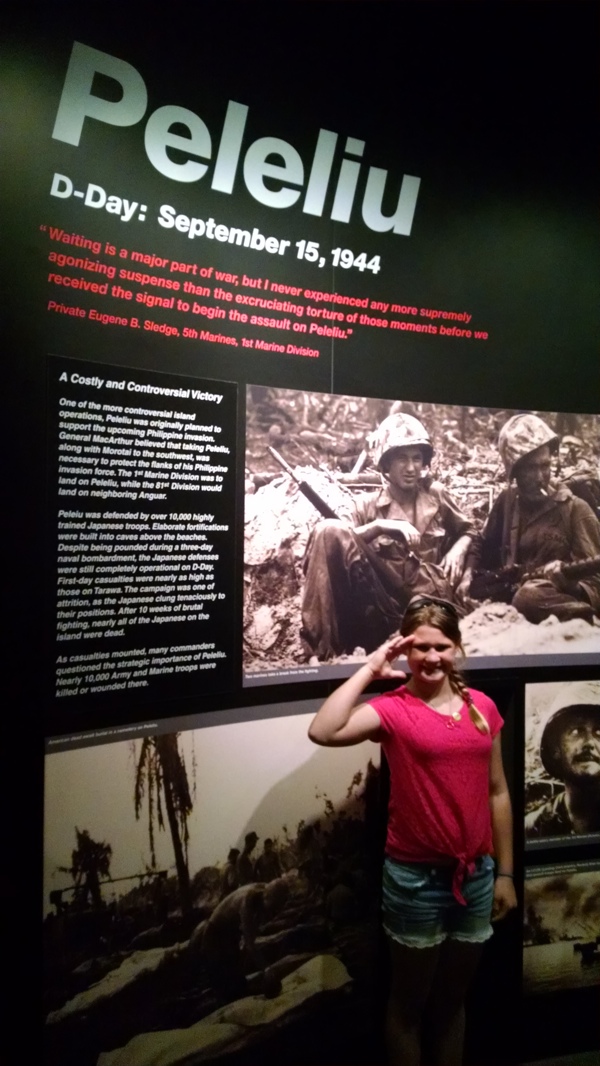 We spent a good 2-3 hours wandering around the museum studying the European and Pacific battles. I tried to relate everything to grandpa growing up and his time in the Navy during WWII. We even found displays, exhibits and short movies about the battles he was in. Hali lasted for a couple of hours, Kira for 30 minutes or so and Lexi just wanted to run through the museum and complete the scavenger hunt. Cathy and I had a great time and hopefully some things soaked in.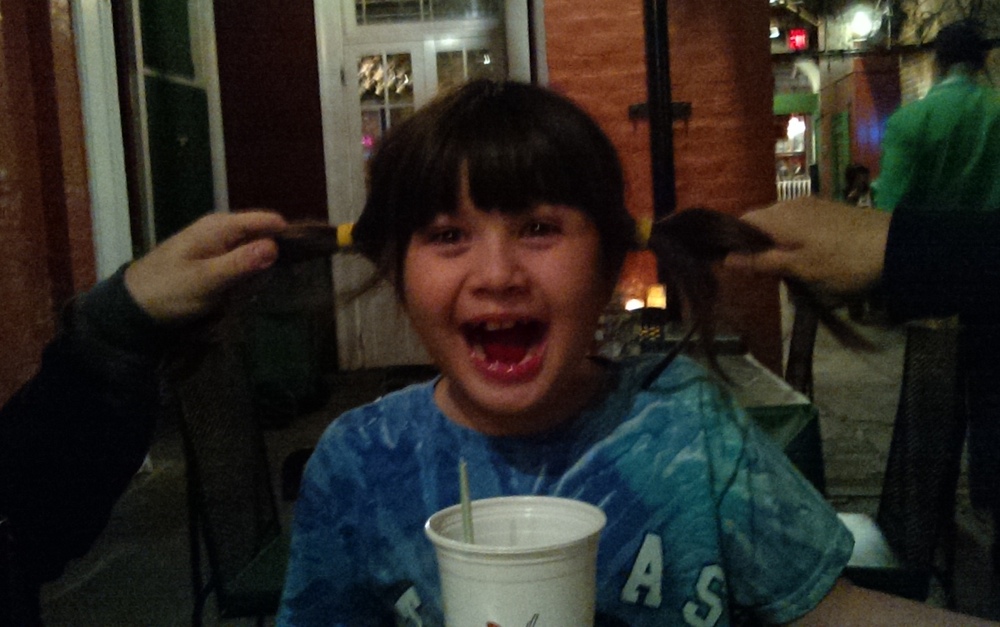 It was getting to be dinner time and everyone was famished so we headed back to the French Quarter for our "last supper"! We didn't have too much time to find something "kid friendly" on Bourbon St and wandered in to Pat O'Brien's Courtyard. We ate lightly (except for Kira) and made our way back home. We had to make a quick stop at Wal-Mart for some supplies and that damn toy we'd promised each girl on our first day.
The girls learned a number of things while in New Orleans:
Bourbon Street stinks. Literally.
Beignets taste better with a ton of powdered sugar.
Alligators are cute and cuddly.
They want to come back and live in New Orleans.
Grandpa kicked ass in WWII.
Dates: November 26 - December 1
RV Park: Parc D'orleans, New Orleans, LA