Once again my wife knows best. We've been to Mammoth Cave, KY a number of times and I wasn't keen to make it a stop but Cathy insisted. I'm glad I finally gave in (this time!) as we had a great time spelunking!
On our final morning in Lexington, we spent some more time with Joe over coffee and breakfast before taking off. The Jeep was still in the shop so we decided to rent a car and head to Mammoth Cave anyway. We weren't sure exactly when the Jeep would be done but I'd simply drive the couple of hours back to Lexington to pick it up when it was ready.
We pulled into the Jellystone park around noon and setup camp. We headed over to the snack bar for a quick bite before joining the 1,000 other kids at the park on the jumping pillow. We tried to stay in the sun as much as possible as Cathy was miserable. My wife does not like cold weather.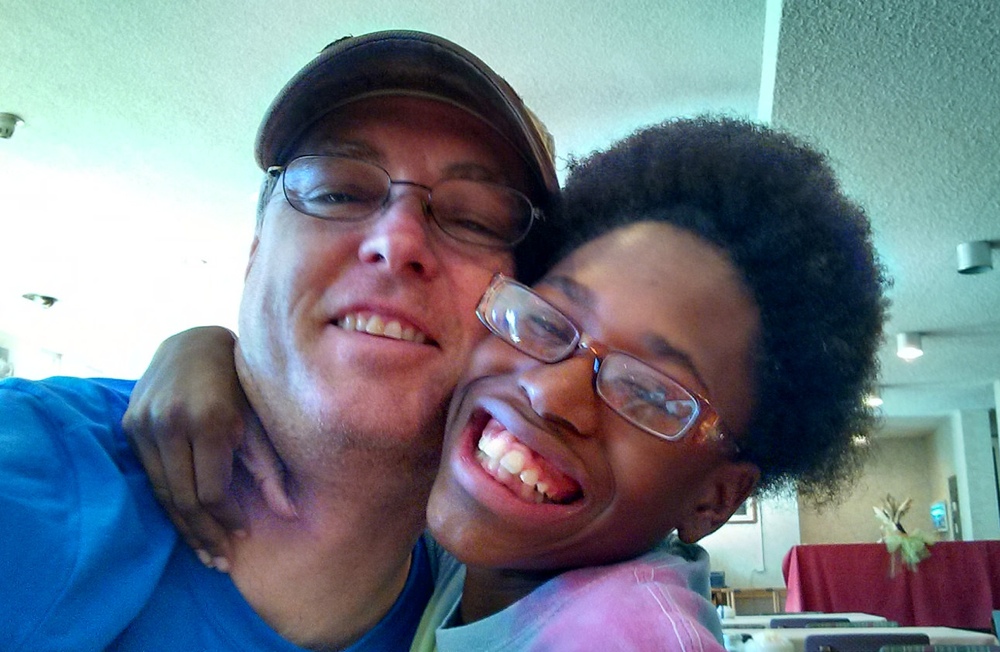 At 6pm we started trick-or-treating at the park. Apparently Halloween is a huge deal at Jellystone as people pulled out all the stops. Kira was a little freaked out with some of the decorations and haunted houses at the park, but after awhile she started to have a blast. It was super cold so we only stayed out for an hour or so. The girls were cold in their costumes plus, it seemed like everyone in the park had started fires and it was starting to affect the girls' breathing. Afterwards we headed to Wal-Mart to buy heavy jackets, hats, mittens and 3 space heaters. It was well below freezing so I removed the water hose so our lines wouldn't freeze.
Everyone got up super early on Sunday. Daylight saving took effect plus we'd crossed into Central Timezone the day before so everyone's biological clock was off by a couple of ours. We had breakfast, played on the computers and then headed over to Mammoth Cave for our first cave tour. Unfortunately the one we wanted was sold out so we killed time in the gift shop and having lunch until the "Historic" tour started. Everyone has a blast going through the cave, especially "fat man's misery". Kira was a little hesitant during some parts of the caves but she did great. The other two had a blast!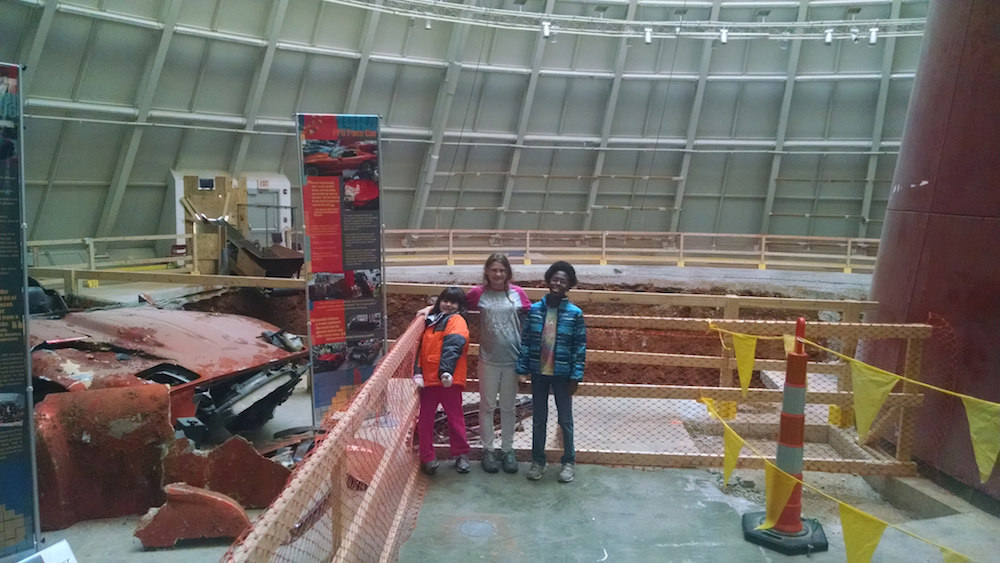 After the tour we decided to head to Bowling Green for Corvette Museum and dinner. We're not huge Corvette fans but it was actually really cool! The girls' favorite part was the sinkhole that had swallowed 8 cars. Afterwards we found a cool little beer/sports bar where we watched some football and ate some wings. They even had self-service craft beer!! I know... OMG!
Monday was a typical day with school and work. Nothing special. The girls were a little grumpy fighting with one another. However, we found a descent Mexican restaurant down the road for dinner so everyone was happy then. The highlight of the night was Cathy cutting her hair after a few margaritas!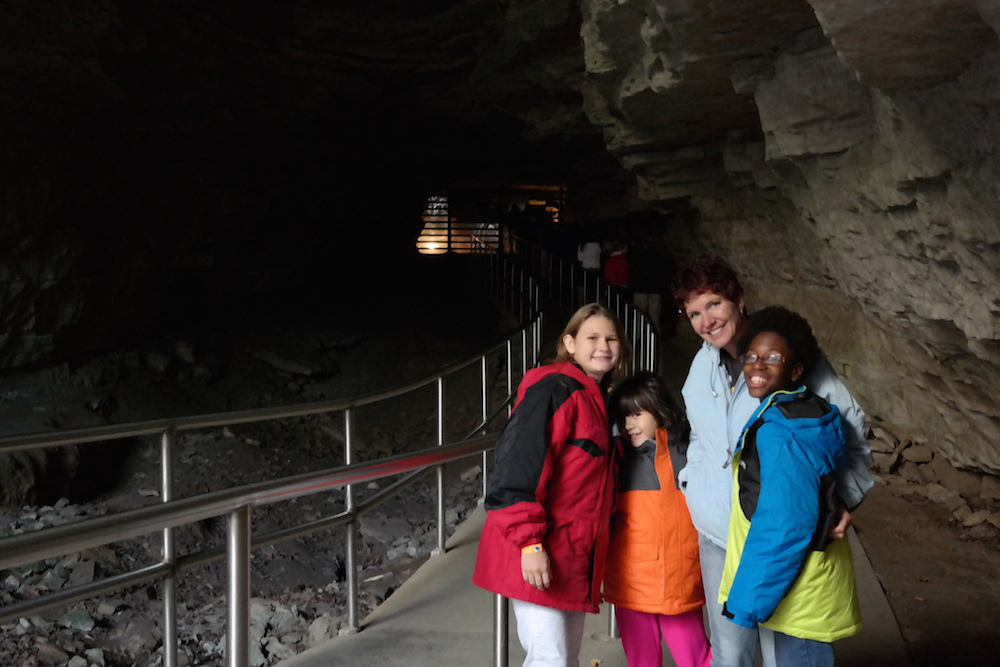 Tuesday was a good day at school. Lexi actually finished all of her 2nd grade work so she and Cathy were going back and redoing some of the stuff she had a difficult time with. Pretty impressive! As a reward, we decided to do another cave tour. We hit the "Frozen Niagara" tour at 3pm which was shorter and very different from the "Historic" tour. The park ranger was very funny and informative and made the girls his helper. Leaving the park was rather interesting as we saw a large number of deer just "hanging around". Apparently they're accustom to people feeding them as a number of them walked out of the woods right up to our car! We hit the grocery store and Pizza Hut (no chain restaurants?) on the way home.
After school and work on Wednesday, we headed back to Lexington to pickup the Jeep. I was going to go myself but Cathy had arranged dinner with a High School friend so everyone piled in the rental car. So after shelling out $2400 to get the Jeep back, we dropped off the rental car and headed over to Saul Good's for dinner. We soon realized that we had a logistics problem getting back home. We had originally planned for me to pick the Jeep up so we had left the bikes, tents and other stuff that we usually pack in the Jeep at Joe's house. We had no idea how were were going to get everything (or anything) back to Mammoth Cave. Lucky Joe came to the rescue. We went out and bought some tie-downs and rigged everyting on the back of the Jeep between the spare tire and bike rake. It was extremely "Beverly Hillbillies" but it got the job done.
Thursday we had a 10:30am appointment at Camping World to have some work done on the RV so we pulled out early and headed to Bowling Green. We actually spent most of the day doing work and school at the waiting room at Camping World. In the end, they couldn't fix the steps nor electrical issue so around 3pm or so we loaded back up and headed to Nashville.
Dates: November 1 - November 6
RV Park: Yogi Bear's Jellystone Park, Cave City, KY