We just spent 4 awesome days in Charleston, SC. What a great city!! I absolutely love the history. I lobbied for Charleston as opposed to Savannah, GA with Cathy and finally won her over. I also had on my side the fact that we've been to Savannah a couple of times already, but she loves Savannah!
We arrived at the RV park outside of Charleston Wednesday, June 18 and got settled in around 4pm or so on. Then off to eat!!! We looked on Yelp and found a tiny little restaurant down the street with terrific reviews ("OMG get the chicken!") called Angel Oak Restaurant. It had awesome food, a swanky atmosphere and some really interesting craft brews. Later on in the week we broke our rule of eating in the same place twice.
Charleston was hot. Very hot. We spent most days inside the RV or at the pool and then later on in the afternoon we'd venture out to downtown Charleston. It was hot.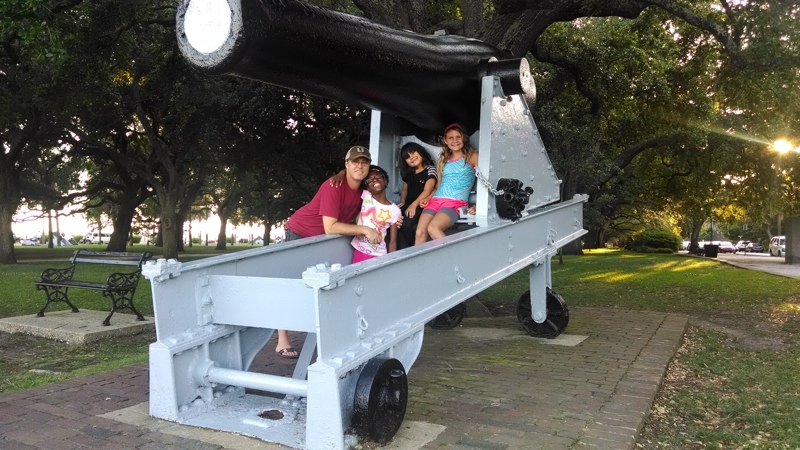 On Thursday, our first full day in Charleston, we found a simple walking route online and followed it through some of the older parts of town and down to White Point Garden (Battery Park). We really had no idea where we were going and luckily hit the jackpot.
After an hour or two of walking, the girls were, of course, bored and starving so after wandering around aimlessly for awhile we finally got a great recommendation for TBonz Grill on Market street. The girls order some gigantic desserts from Kaminsky's next door while Cathy and I had a beer.
I worked all day Friday while the girls rode bikes around the park and went to the pool. We thought it would be cool to take the girls to Bubba Gump's for dinner in Charleston. Bad decision. Probably one of the worst decisions/meals we've ever made. Don't ever go to Bubba Gump's. Ever.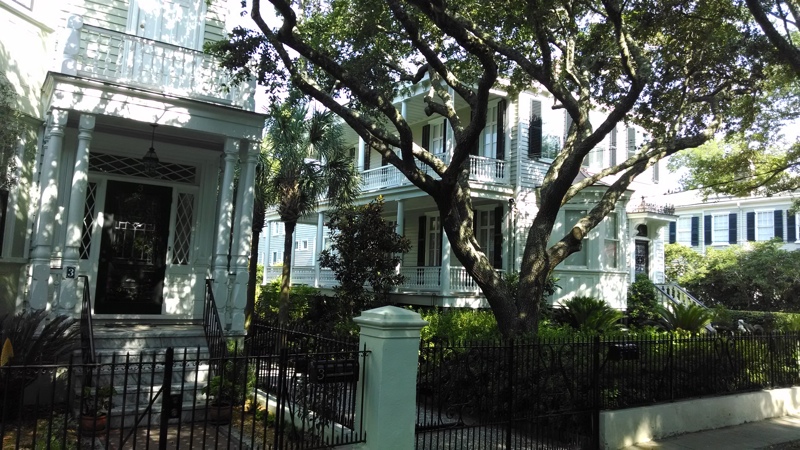 Saturday and Sunday were the best days in Charleston. We got up early Saturday morning and took a carriage tour of the city. Great history, houses and culture. Love Charleston! We decided to take the tour guide up on her recommendation for Lowcountry Bistro. OMG was it awesome!! Chicken and waffles FTW!! It was probably the best meal we've had so far.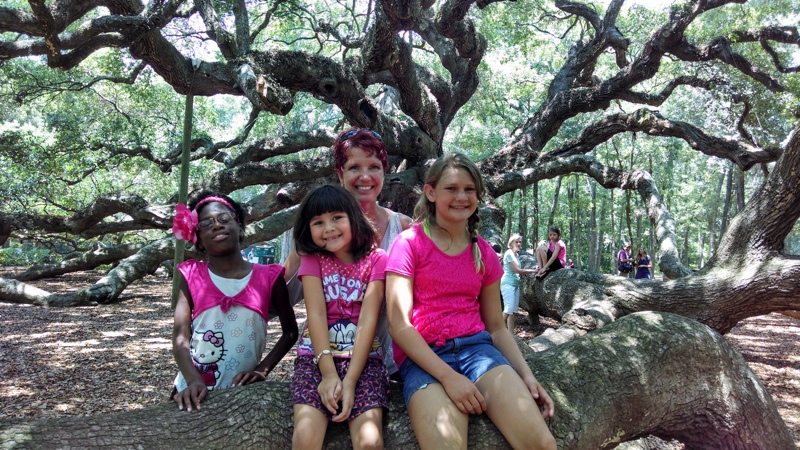 We had made plans to attend an outdoor concert for most of the day Saturday but we decided to punt and stay indoors. There wasn't a cloud in the sky and it was pushing 95 degrees. We broke our "one place" eating rule and went back to Angel Oak Restaurant for beignets (we were told they were the best!). The girls loved them!! Then it was off to see the actual Angel Oak tree. I'd seen reviews of the tree and was dying to go. It's reported to be the oldest living thing east of the Rockies at roughly 1500 years old! It didn't disappoint. Truly amazing. Then we hit one more graveyard on the way out as Kira can't get enough of them. She loves wandering through them for some reason.
Sunday was another highly anticipated day for a number of reasons. Since it had been so hot we decided the day before to visit Ft. Sumter early in the morning. We took the 9:30 ferry to the island and toured it for an hour. We had a great time and I think the girls really learned a lot about the start of the Civil War and slavery in general. It was a hot topic.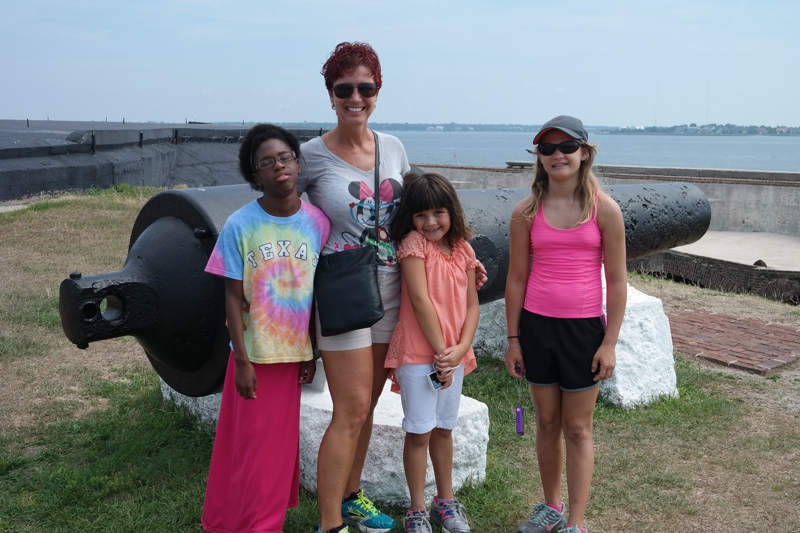 After the tour we headed back to TBonz (we didn't technically eat there before as we only had beer and dessert) and had lunch and watched some soccer. We spent the rest of the day in the RV waiting for the 6pm USA vs. Portugal game to start. We found a local sports bar and had a blast watching USA almost win.
Now we are off to somewhere north of Myrtle Beach to kill a couple of days before we head to Fayetteville to see Tyler.
Dates: June 18 - June 23
RV Park: Oak Plantation Campground, Charleston, SC