While preparing for our Ginormous RV Palooza or whenver we mentioned we were going to Massachusetts, people would always say, "OMG! You gotta go to Normandy Farms in Foxborough, MA!!". So we finally broke down and gave into the "camping peer pressure" and booked some time at Normandy Farms.
The campground (if you can call it that) is very nice and somewhat "corporate". If feels a little like Disney (with similar prices) where everything is immaculate and very well taken care of. That's not a bad thing, but you don't run into campgrounds like this too often. They have 4 pools, a hot tub, a ton of playgrounds, a rec hall and a "campers kitchen" run by a local restaurant. The staff is super nice and we had many long conversations with them. I would definitely say there again.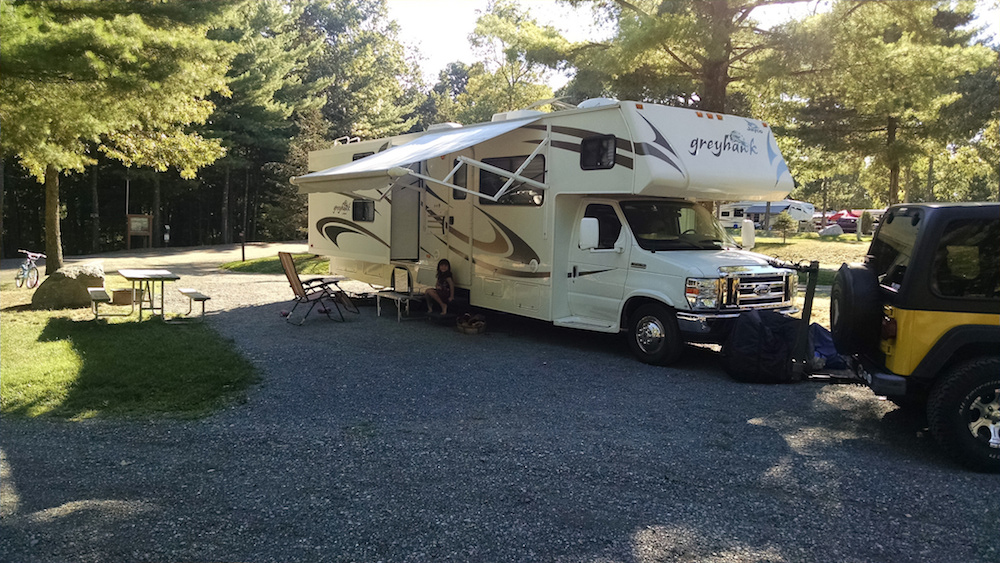 Lexi and I pulled into the campground Friday a little after 1pm and checked in. Normandy is absolutely packed on the weekends and rather empty during the week. We had booked a couple of days before so we got a spot waaayyy in the back in the overflow lot. After we got our school work done we headed to the pool. Lexi made friends as usual with the girl who was parked next door. Unfortunately, I talked to the front desk a little later and we ended up moving to a better spot next to the pool so she didn't see her friend as much!
Friday night the Camper's Kitchen was offering an "Authentic New England Clam Bake" so I decided to purchase one. The lobster was good but I found out that I'm not fond of clams or mussels at all. I would have been much happier with a $25 steak instead but it was worth the experience.
Saturday and Sunday were crazy at the park!! It was completely packed and felt like 1.65M people were there. Lexi made friends with a little girl named Olivia who was there with her brother, dad and her dad's friend. I ended up hanging out with them for the weekend as well! YAH! Friends for me! We spent most of the weekend at the pool, playgrounds and playing with toys. They had a dance Saturday evening and Lexi put on her "adoption" dress and went to town. There were a ton of little girls for her to play with and she had a blast.
Sunday morning we went over and had breakfast at the Camper's Kitchen (we ate there quite often since mom was away) and said goodbye to her friends. Since it was Sunday and people were heading home for the weekend, I spoke with the front desk and got another, better site in the trees! We moved the campsite and spent the rest of the day hanging out at the pool. Not as many kids and a little boring for poor little Lexi.
Cathy and the girls were flying back late Monday night so we did our work and left late in the evening for Boston. The girls landed around 11pm and then we tried to drive home. Unfortunately there was construction around the airport and we ended going around in circles trying to get on the highway. Literally (not figuratively) in circles... three times around the same detour path. Around 12:30am we finally got onto the highway. Along the way Cathy and I talked about taking the girls out of K-12 and enroll them into home schooling. In the end, we decided to do Time4Learning.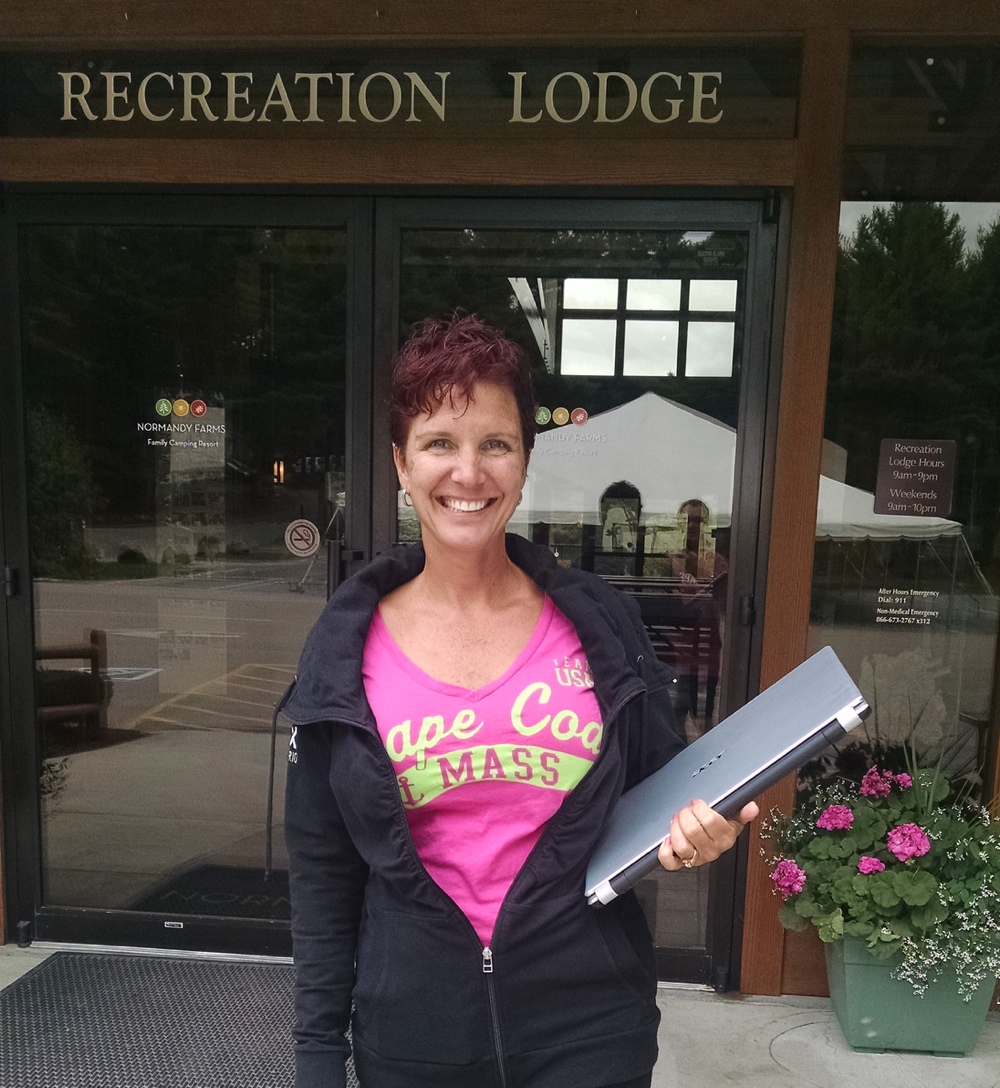 Tuesday we started our first day of Time4Learning and life was muuuccchhhh better. Everything is online and Cathy can configure their courses suited to their ability. For instance, if one girl is strong in math and weak reading, she can dial the math curriculum up and the reading curriculum down. All of the lessons feel like games and the girls really enjoy going through them. It made learning fun again! We spent most of Tuesday in the lodge doing school work and afterwards celebrated by having dinner at the local Irish pub where we played trivia. Cathy was much happier (see smiling photo above) and back to her ole' self again: pleasant, patient and beautiful.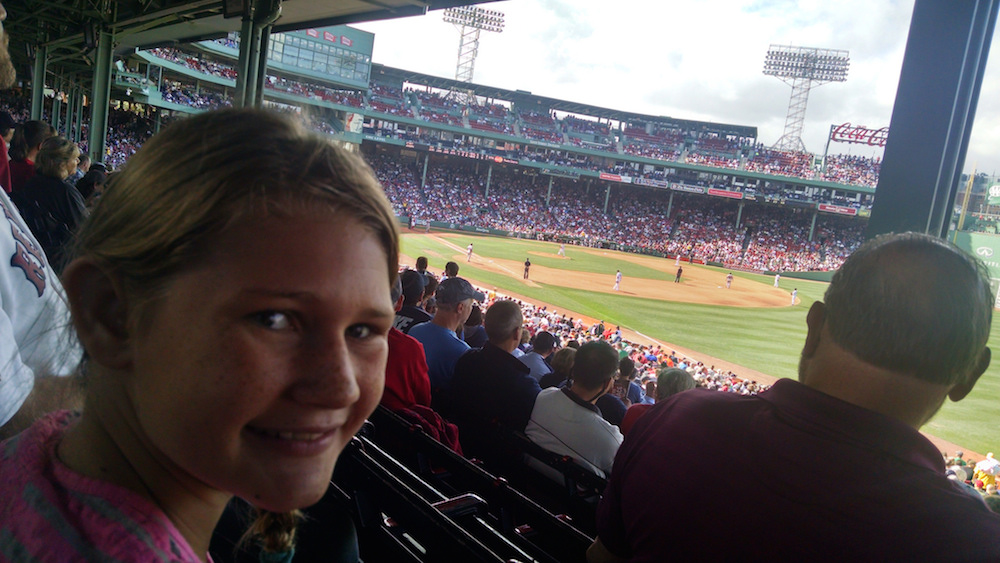 Wednesday was an awesome day!! Hali and I had been trying to go to a Red Sox game for awhile but seemed to always be traveling farther and farther away from Boston. Wednesday was the last time we could take in a game was we were heading north and the Sox were going on the road. We took off around noon for Boston and arrived during the second inning. We finally found a parking space and headed to the Fenway. I asked a security guard where I could purchase tickets and he promptly pulled out his wallet and gave me two free tickets. Apparently the Red Sox are so bad this year that they are giving away tickets!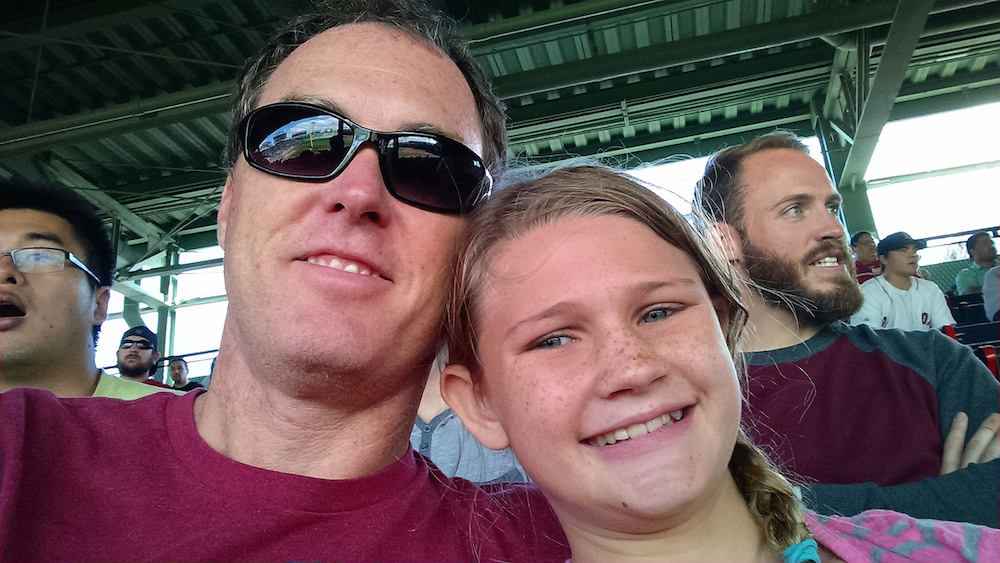 Our seats were right past first base and about 30 rows up. Great seats for free! The Sox were down 6-0 in the third inning but we didn't care. We had a blast just sitting there watching the game, talking about baseball and the park and eating Fenway franks. The game finished around 4:30pm and we hit the road with everyone else trying to get out of Boston. Later, Hali said it was one of the best days of her life. I had to agree as well. I always love spending time alone with Hali. She's such a great girl.
On the way home we stopped at a nearby Sport Authority for a new mountain bike for me. I had given up the hope of riding my Tri bike and had decided to ship it back home. It just wasn't practical and I wanted something to attach Kira's tagalong to. Cathy's folding bike just didn't do the trick.
Thursday was RV repair day. We had some nagging issues so I had made arrangements to drop it off for some work. We came back to the campgrounds for some school work and then hit Toby Keith's "I love this bar" restaurant for lunch. Really good!!! After lunch we finished our work and picked up the RV. That evening we went to the Bass Pro Shop as the "Cranberry Bogs" were right behind it. No cranberries to see but plenty of learning about agriculture in general.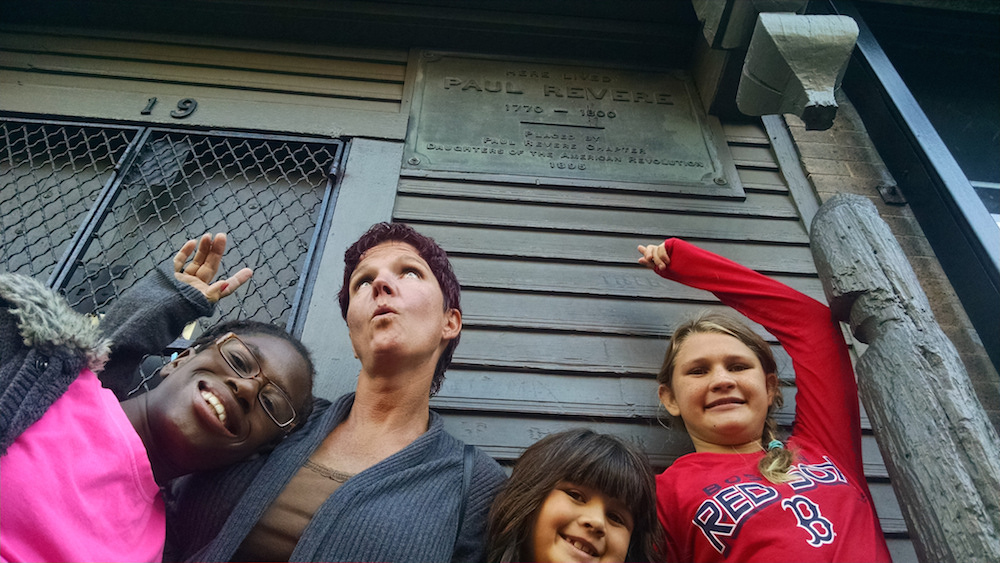 Friday we finished school and work, Cathy got a massage and then we took off for Boston around 3:30pm. We had decided to head to the north end for pizza and some sightseeing. We would have liked to have done the Freedom Trail but just didn't have enough time. We pulled into the north end and immediately hit Regina Pizzeria (since 1926!) for dinner. It was 5:01pm so the girls were dying!! The pizza and hole-in-the-wall atmosphere were perfect!! Great time.
Even though we didn't have time for the Freedom Trail, we made plans for some historical sightseeing. Our first (and last) stop was Paul Revere's house. At that point, Cathy promptly broke her sandals on the cobblestone streets. We spent the next half hour searching for a way to fix her shoe to no avail. So we grabbed some coffee and treats at a small coffee shop on the way out of town and headed back home. Boston has punched us right square in the mouth.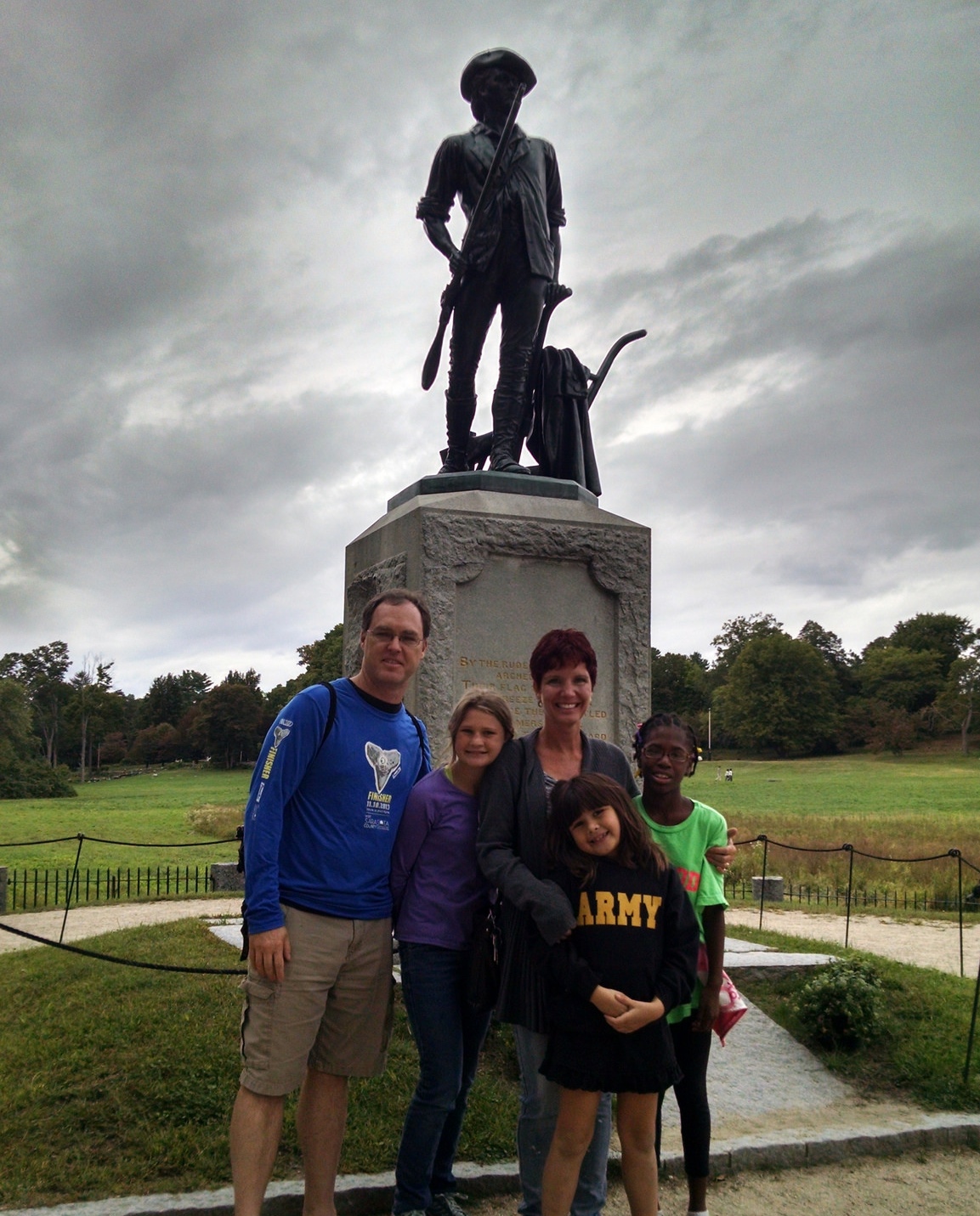 Saturday was "all history all the time" day as we headed to Lexington and Concord!! We took a 2 hour tour around both cities, stopping at local battle sites and talking about the Revolution and how it began. The girls were a little bored at first (I was having a blast!!!) but soon got into the swing of things as we made stops and history came to life. Nothing like studying history at the places where history actually occurred! It was a long day and we capped it off with a trip the local graveyard and pizza; two of Kira's favorite things. The ride home consisted of reading our Paul Revere book and really driving home what we had learned that day.
Sunday we did nothing. Absolutely nothing. We just sat around the campground and played. Great day.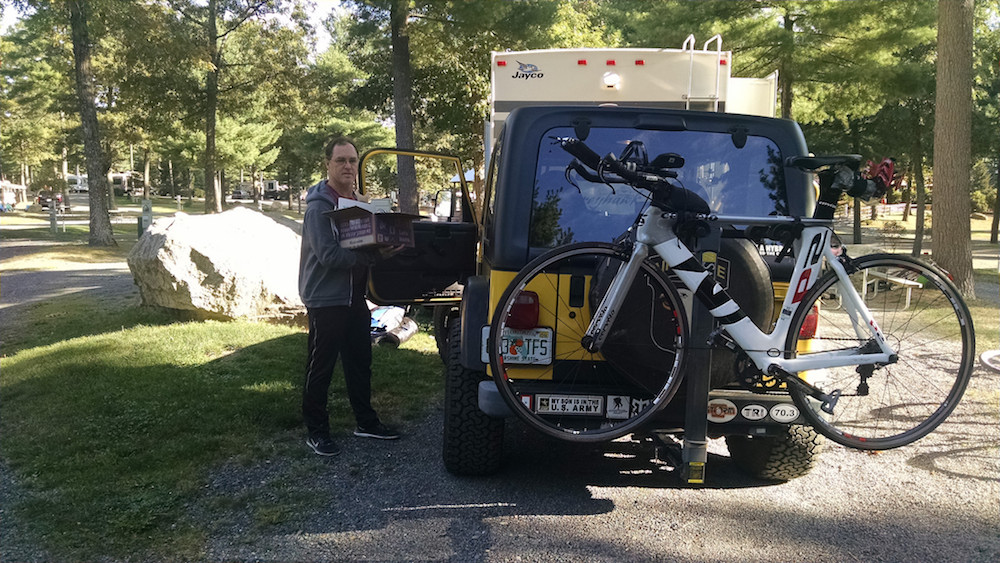 Monday was a busy day as we were heading out (finally) leaving Massachusetts. However, before we left I had to make a stop at the local UPS store and have my bike shipped back to FL and all of the K-12 supplies mailed back. What an adventure getting all of that $h!# packed back up.
Dates: September 5 - September 15
RV Park: Normandy Farms Campground, Foxborough, MA