Our six days in Cincinnati was split between our stay at Great Wolf Lodge and the driveway of Cathy's best friend from High School. We had been promising the girls we'd stay at a Great Wolf for a number of months and we finally had to put our money where our mouth was. We wanted to stay at the one in Niagara (they had babysitting!!!) but we realized that it was actually in Canada and we didn't have passports for the girls. Thanks terrorists.
We left the RV park outside of Pittsburg Saturday morning in a cold rain, dumped out tank and littered our stuff across the RV park. We'd forgotten to close the large rear compartment and various items fell out as we made our way through the RV park. A nice guy ran us down and told us what had happened. Fun times in the rain. Since I had just retuned from Dreamforce and it was Saturday, I volunteered to drive the 5 hours across Pennsylvania and through Ohio to Cincinnati. I thought I owed it to Cathy since I had left her alone for almost a week with the three girls. She looked gaunt and worn when I returned. ;) It was a long trip to Cincinnati. Great Wolf didn't have availability for us the first night so we opted to sleep in their parking lot!
We pulled into Cincinnati around dinner time and went to Wal-Mart down the road, got some supplies and ate at Subway. We weren't really sure what we were going to do that night so we decided to drive across the street and take the girls to see "Alexander and the Terrible, Horrible, No Good, Very Bad Day". We parked the RV in the movie theatre parking lot taking up 10 or so spots, cause that's how we roll. The movie was good but we were a little concerned that we were blocked in when we tried to leave. We came back to Great Wolf and checked with the front desk again about parking in the lot before we headed to sleep.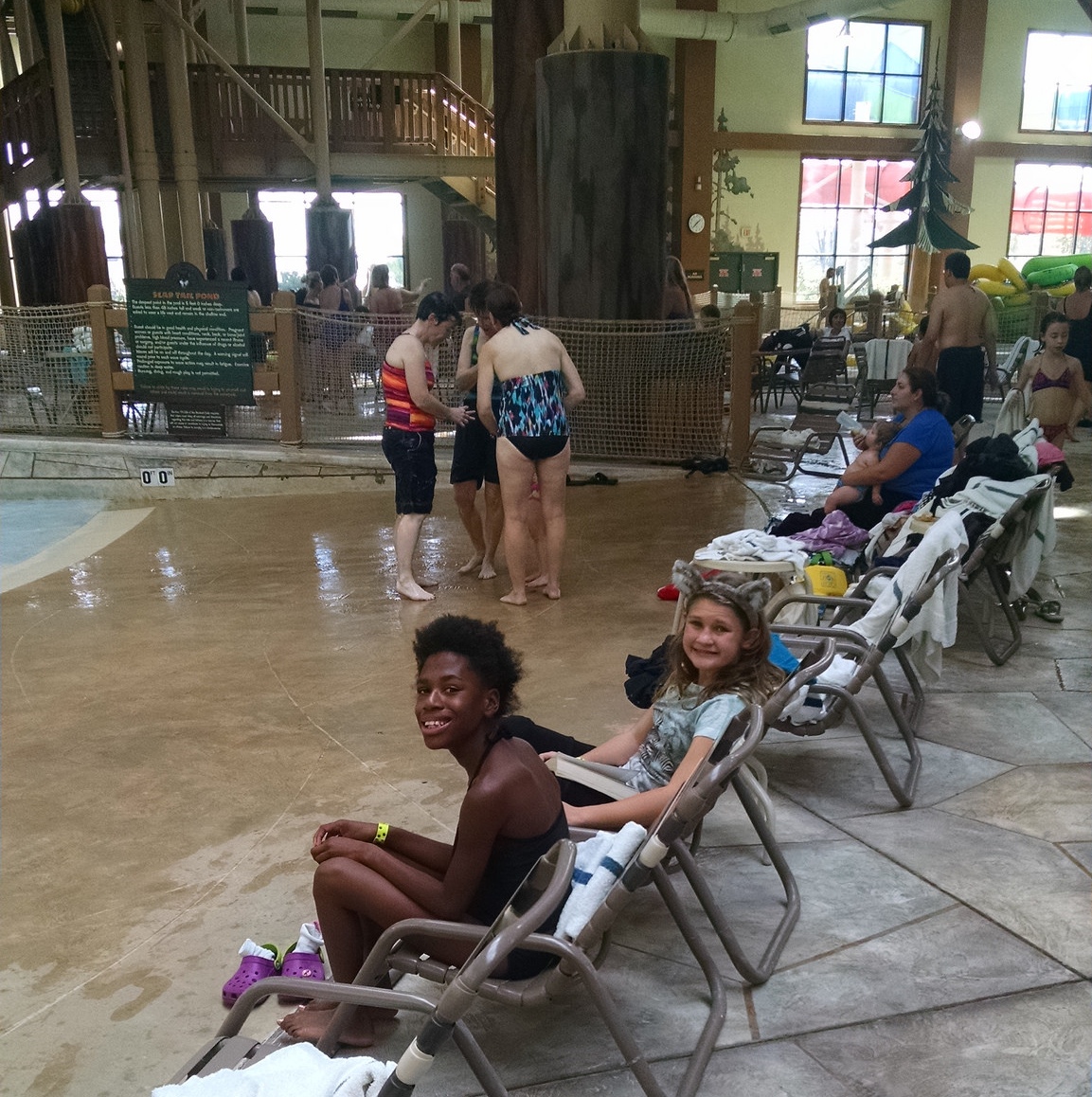 The next morning we got up early, had breakfast and headed over to Great Wolf. I sweet-talked the girls at the front desk and we got our room around noon! Great Wolf has a ton of cool things for kids including a huge indoor water park with slides, lazy rivers, hot tubs and more! Hali had gotten in trouble so her punishment was to supervise the little girls instead of getting into the pool. She was not a happy camper staying out of the water for three days but she learned a valuable lesson: don't piss off mom.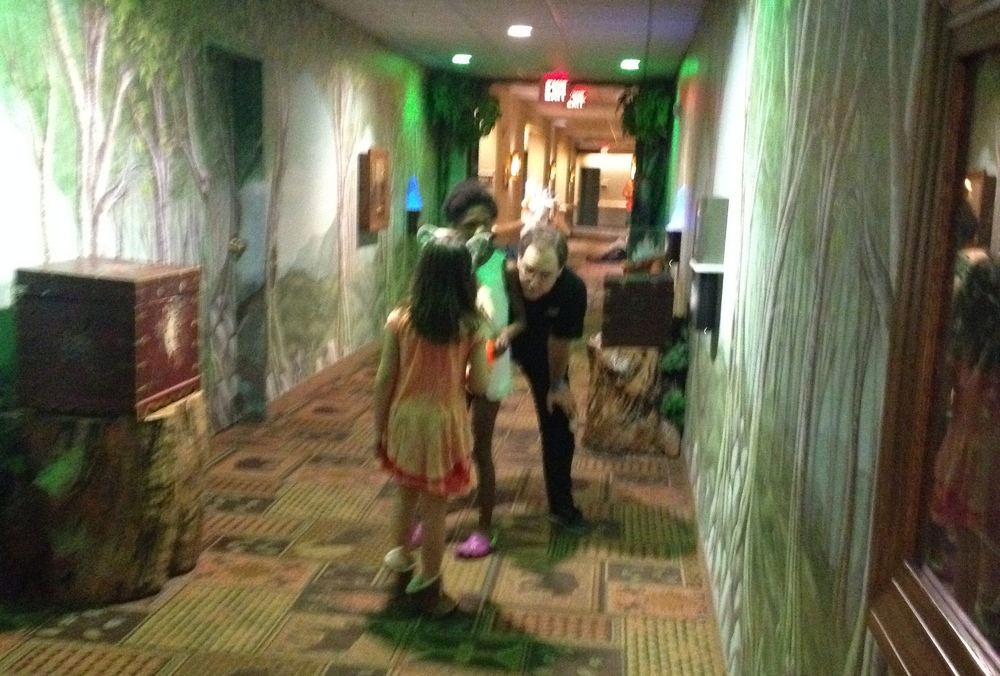 Later on in the day we bought all of the girls "Magic Quest" wands. One of the draws of Great Wolf is the Magic Quest game, an interactive scavenger hunt. The kids roam all 4 floors using their wands to find hidden treasures and secrets. There are a number of different levels and games so the kids can play all weekend long (for a price). We soon discovered that they had a hard time completing the quests on their own (except for Hali) and we needed to help out. After awhile it felt like a job. It was quite a bit of work and led me to drink.
We thought since Magic Quest was an adventure inside the hotel we could just let them loose and spend some time sans rugrats. So we took a short nap and then went to the restaurant/bar in the lobby to watch the football game. After awhile the general manager tracked us down to return our kids to us and scold us for leaving them unattended. (What were we paying all this money for!!??) Apparently Hali had flagged down the management to let them into our room and since she couldn't find us freaked out.
After dinner of over-priced pizza, the girls got dressed in their Halloween costumes and went trick-or-treating with the other 15,000 kids around the hotel. They had a mini-scavenger hunt setup for prizes and trinkets so the girls had a blast.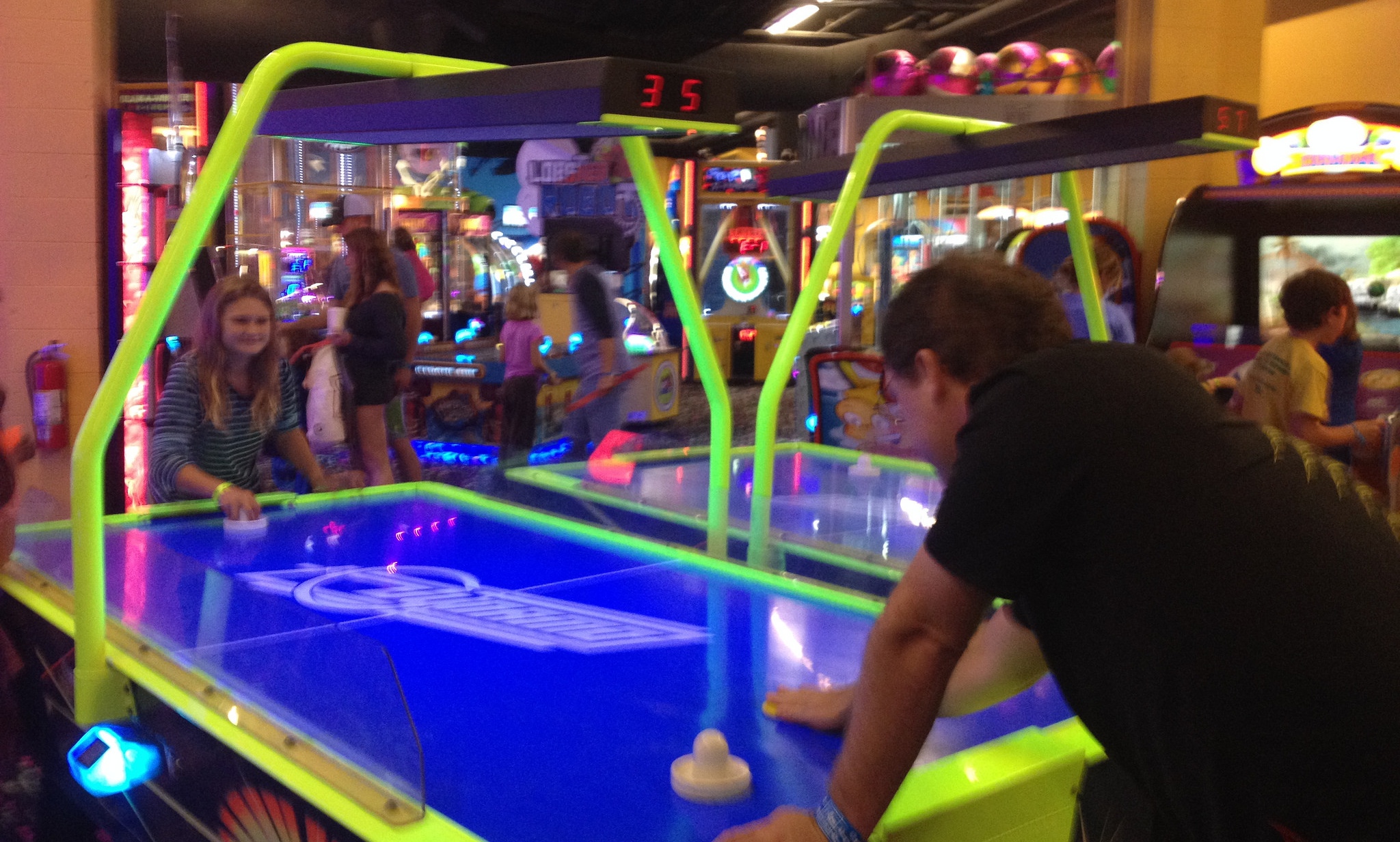 I took Monday off and the agenda was roughly the same as Saturday: swimming, video games, pizza and Magic Quest for most of the day. We did walk across the street to Outback for dinner with Sheri and her family. After dinner, the girls participated in the story time with Sammy the Squirrel and then we hit the rack. Cathy and I stole away to the restaurant to have a quick salad and talk about upcoming plans.
On our last day the girls did Magic Quest for most of the morning until we checked out. We ate lunch, got last minute pics with the characters and then headed across town to Sheri's and Becky's house. We found out that the battery on the Jeep had been drained and we had a had to get Sheri to jump it after we unhooked around the corner. We had a heck of a time pulling into Sheri's driveway due to some low hanging branches.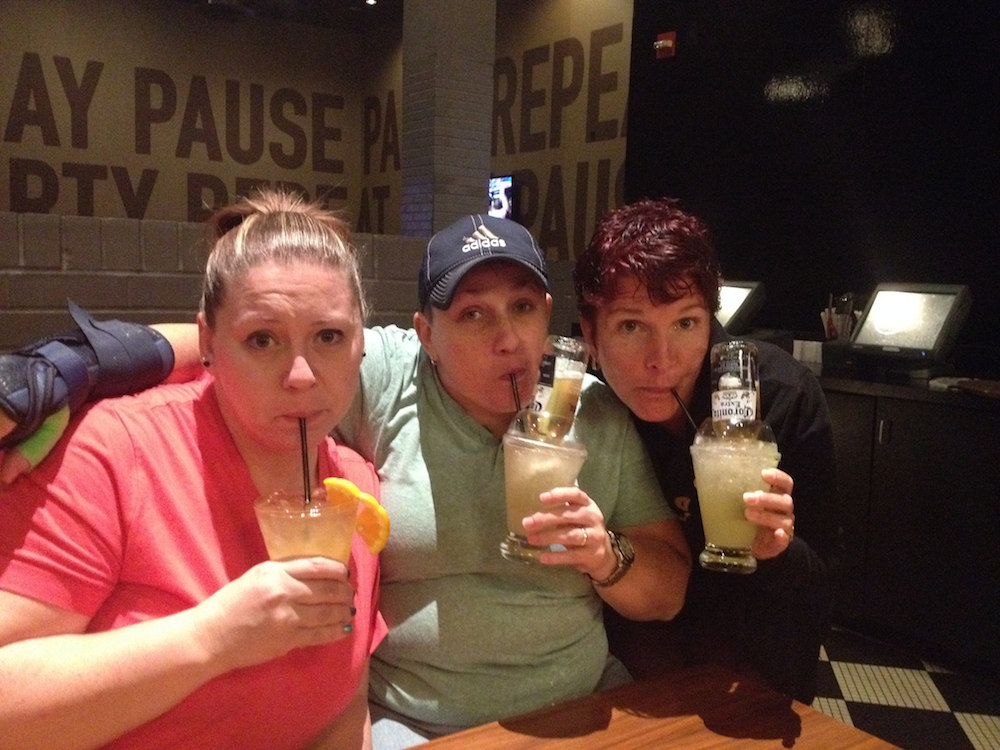 The majority of our stay at Sheri and Becky's house was spent just doing school, work and catching up with their family. We did go to Dave & Buster's one night and played video games till 10pm. The girls were exhausted!
On our final day in Cincinnati we did school and work in the morning and then I picked up Skyline chili for lunch. Apparently they don't let you out of town without a receipt from Skyline. Then we limped the jeep over to hook it up and left for Lexington!
Dates: October 18 - October 23
RV Park: Great Wolf Lodge & Sheri's Driveway, Cincinnati, OH