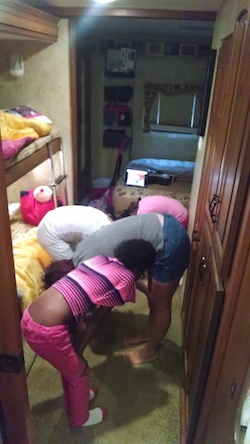 Here we go! We just left Charleston SC, it was fun but I think Kira and Alexis got bored of all the history. We are all having fun doing stuff in the different places. We got to the RV park around 4:00. It is in the middle of nowhere. When we got there we started to unpack, then mom and dad went to the wine tasting at the vineyard next door twhile Kira played on her Nintendo DS. Alexis and I feed ducks. Mom cooked the whole time we were at the RV park! We didn't go out once to eat. Most of the time we stayed at the RV park.
The first day we were there, Alexis and I played with our new friends Naoma, Jacklin and Ava. Their parents owned the RV park. Jacklin is 11, Naoma is 10, Ava is 7. We played with them most of the day. We ran through places and biked and played on the playground. We were going to go hiking, but it rained. We did yoga instead. Alexis loved it, Kira and I didn't like it so much. Mom made steak, it was amazing.
The second day we were there we ate breakfast and then went for a hike. We went on the short one and the long one. It was fun. We only saw a snake. After the hike we ate lunch. We had hamburgers. Yummy! After lunch we tried to teach Kira how to ride her bike without training wheels. She didn't fall off but she was not good at it. We are going to buy a 3 wheel bike for her now. After that we went to the pool. That was fun too.
The third day we were there, we started to pack and get ready to leave. Everybody took shower that morning. We put stuff away and now we are on our way to Fayetteville NC to see our brother Tyler.
Dates: June 23 - June 26
RV Park: Carrolwoods RV Park, Middle of Nowhere (16 miles north west of North Myrtle Beach)