Our stay in Bristol, CT was a short one, only 3 days. Cathy found Bear Creek Campground which is part of Lake Compounce, the oldest, continuously-operating amusement park in North America (since 1846!). The only issue was that Bear Creek had just opened up weeks before and there was no sewage or water hookups. So we limited our stay to as much "fluids" as we could hold in the RV. The campground was nice, very new but not quite finished. It's located right across the street from the ESPN headquarters!
Our stay in Bristol was rather uneventful. We mostly stayed at the campground, did chores and got some runs in (even the girls!). Our second day was spent at Lake Compounce. Cathy and the girls took the little golf cart shuttle over to the park when it opened around 11am and I joined when I got off work.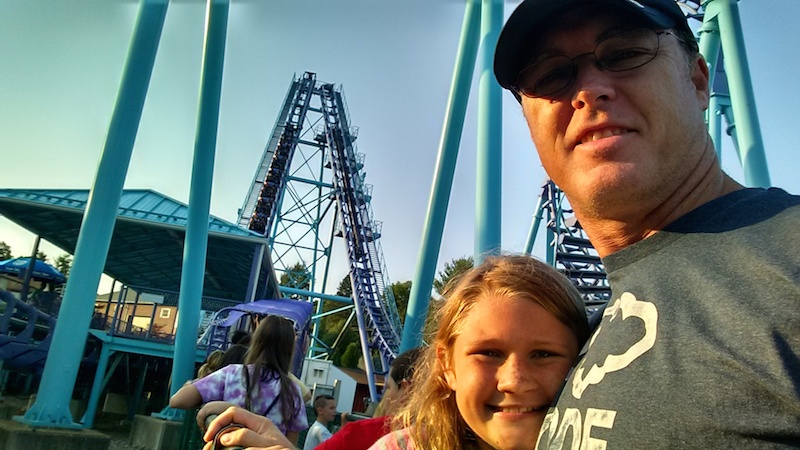 Cathy had to send Alexis back in the mid-afternoon as was crying about riding the roller coasters. She works herself up for no reason and then has a blast when she's done. Anyway, we rode the water slides for a little while as it was too cold to really enjoy them and hit all of the roller coasters. We closed the park around 9pm and took the little shuttle home. The water park would have been great if it had been warmer but all in all, a nice little park.
On our last day I spent the morning working and then headed into Hartford, CT for a work meeting. One of my co-workers picked me up on the way by and I spent the rest of the day and most of the evening "working" at a local pub with everyone.
The next morning we packed up and headed to Rhode Island for our first stay at a State Park.
Dates: July 29 - August 1
RV Park: Bear Creek Campground, Bristol, CT