Flanders, NJ is about an hour west of NYC and it was the closest spot we could find to the city. There was a campground right across from Manhattan but unfortunately they were book until Jesus returns. Anyway, the trips to NYC weren't that bad and the RV spot turned out to be pretty sweet. We ended up staying a week and making a number of trips to NYC for things like pizza, sight-seeing and a show on Broadway.
First off... NJ has some crazy roads and rules. The roads are super windy and confusing and about drove me crazy. You can't make a left turn on the main roads so there are signs that say, "For left turn and U turn, keep right" and you make this whacky loop around the road and wait at the light. Plus, all of the gas stations are full service so that threw me as well.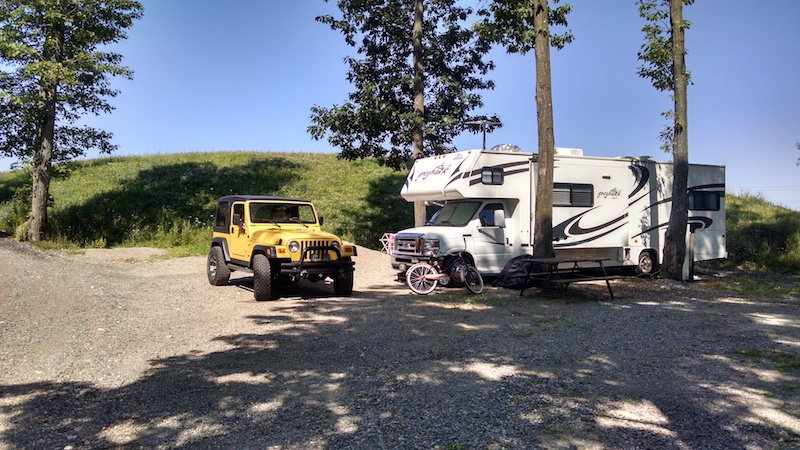 Anyway, we arrived at the RV park around noon and found out that the girl at the front desk went to USF as did our son Scott. So she gave us a discount on the rate and a prime spot at the top of the hill. Loved it!! We spent the rest of the day unpacking, working and swimming in the little kiddie pool. Later that night we ventured out into the local community and found a Barnes & Noble so the girls could spend their gift cards from Grandma.
While I worked the next day, Cathy took the girls to Alstede Farms to pick berries and eat ice cream. After work we decided to head into NYC and show the girls Time Square. According to the GPS, it was only a one hour drive but, apparently, that was only to the Holland Tunnel. It took an hour to drive the 5-10 miles from the Tunnel into the city. Traffic was a mess but I guess that's typical. We found a parking spot shortly after arriving and walked the couple of blocks to Times Square. First on the agenda.... pizza! We found a nice place off of Broadway for a slice and then headed up and down Times Square.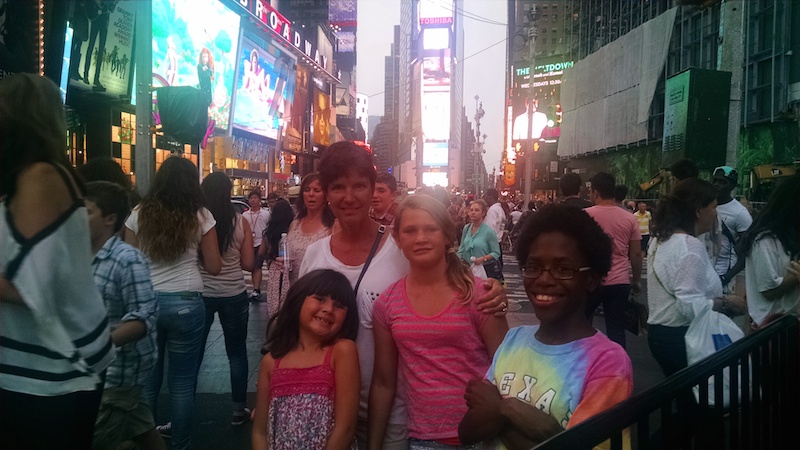 The girls weren't thrilled by the crowds but did like lights and billboards. We tried to text our name on to the Coke billboard but it never showed up. #cokefail Around 8:30pm it started to sprinkle as we walked back to the car and then we were caught in a down pour. Everyone was soaked by the time we got back to the car. However, the drive home was much quicker!!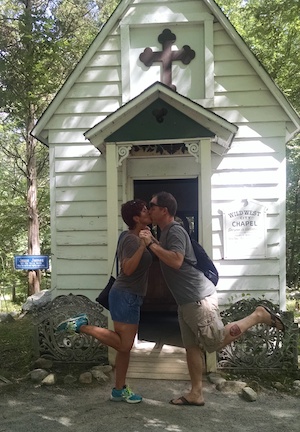 The next day was Thursday and Cathy took the kids that morning to Wild West City, a western heritage theme park recreating 1880's life, near the RV park. Take a look at their site as they have some really cool pictures with gun fights, stage coach rides, petting zoos and such. I joined shortly after I got off work for an hour or so. We headed home, the girls had cotton candy for dessert (we are bad parents) and Cathy and I snuggled up under the blanket outside and watched TV. The weather was quite chilly for most of the night in NJ.
Friday was a rest day as we had big plans for the weekend in NYC. We found out there was a Macaroni Grill on the other side of the RV park (literally 50 yards after climbing out little hill we were at the base of) so we went there for lunch. I worked all day of course while Cathy did laundry and made a lazy day out of it.
Saturday was the big day in NYC. I wanted to take the girls to a Broadway show but couldn't stomach $200 per person for tickets to Wicked or Lion King. Luckily we found reasonable tickets to Cinderella and the girls loved it!
We got up early and headed into NYC. We parked in Jersey City and took the PATH train to Manhattan. We hopped on the subway and took it north to Central Park. It started to rain, and it was lunch time, so we found a little Irish pub called Coliseum to wait out the shower. Shortly afterwards we made our way to Central Park, walked around for quite awhile and then decided to take a carriage ride through the park. The girls had a great time and even got to give the horse a treat afterwards. We walked around a little more, climbed on rocks but decided to skip the zoo since there were no lions, zebras or giraffes. After the park it was a hop, skip and a jump to FAO Schwarz to show the kids the toy and tell them they couldn't have any.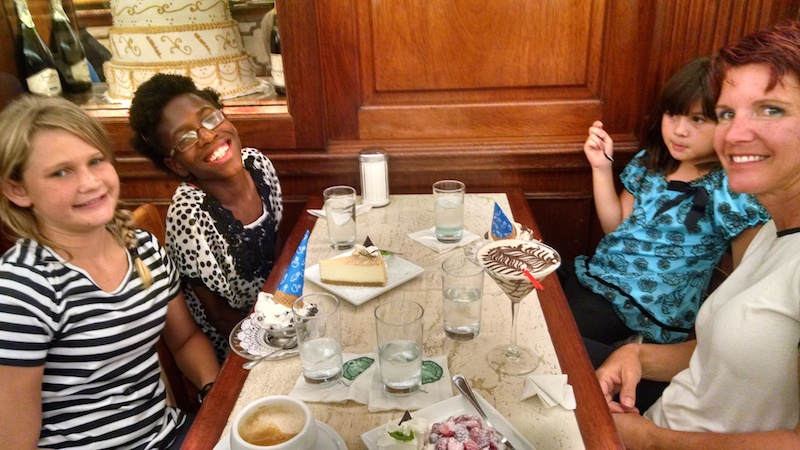 At that point I had my mind made up that I wanted to go to Ferrara Bakery & Cafe in Little Italy. One of my favorite places in the city. The desserts and coffee were great but the services sucked. We had a great time overall and everyone left full and happy. Great photos of empty plates and chocolate covered faces.
We then took the subway back towards Time Square for Cinderella. Luckily we had to switch trains at Grand Central Station as the girls really wanted to see it. They wanted to see what the real location looked like from their favorite movie Madagascar. We wandered around a couple of hours, took pictures and visited the Apple store. Then off to Cinderella! The show was great and the girls really enjoyed it. The show ended around 10pm, we had to take the subway back to the PATH train, take the PATH train back to Jersey City, walk to our car and then drive home. We arrived home about 1:30am and poured everyone into bed. Super long day!!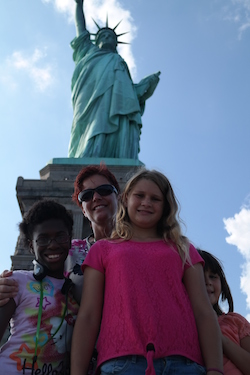 We got up Sunday late as everyone was exhausted. However, it was the weekend and we were still in NYC so there was stuff to see! Our only goal for Sunday was the Statue of Liberty and pizza at Lombardi's. So after lunch we drove to Liberty Square in NJ to catch the boat to the Statue. We skipped Ellis Island (I regret that decision now) and headed straight to the Statue. We took the audio guided tour and everyone had a blast learning about how the status was built and the immigrants that came through Ellis Island. We took a ton of great photos and they finally had to kick us out. Literally. They were closing.
After the Statue tour we decided to drive over to Little Italy for pizza at Lombardi's but the wait was too long. Typical. So we found a little restaurant on the street and had a nice little dinner. The tables were like Italy, placed so close together that we actually had a meal with the 20-something girls next to us. Apparently they have rough lives being professional, single girls in the city. You should have heard!!
I took the day off on Monday as it was our last day in NYC. Hali really wanted to see the Empire State Building and I wanted to stop by the 911 Memorial. We had to be home by 6pm as we were having dinner with one of boys we had fostered. He was 3 now and living with his grand parents nearby.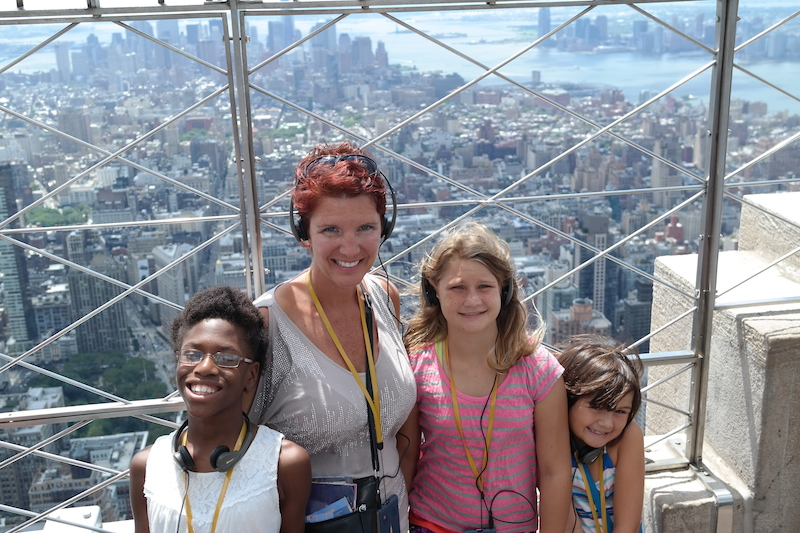 So, we took off after breakfast and headed to the PATH station in Jersey City (I was pretty good at finding the station by this time). The PATH dumped us off near the Empire State Building but we decided to get a slice before the tour. The girls get cranky when they don't eat every 2-3 hours. The audio tour of the Empire State Building was a lot of fun and we had a good time taking pictures from the Observation Deck (86th floor but we walked up 6 flights). We spent almost 3 hours in the building listening to how it was made and learning the history of the building. Really great learning experience.
Then we headed over to the 911 Memorial but had a difficult time finding it due to the construction. Unfortunately the next available tour was at 3:30pm which was too late for us as we had 6pm dinner plans. We were only able to walk around the two memorials and take pictures and tell the girls about what happened in September. It would have been much more memorable to see and hear it all in tour. I also regret not staying longer in NYC and doing the 911 Memorial. Maybe we'll have to stop by NYC again some day.
Dates: July 22 - July 29
RV Park: Fla-Net Park, Flanders, NJ